If you love trekking, nature, and adventure, Mt. Kenya is waiting for you. Every year, thousands of tourists visit Kenya for trekking the Sirimon and Chogoria routes of Mt. Kenya. Standing at around 17,000 feet from the sea level, this gorgeous volcanic elevation is situated North of the Equator in the Kenyan Central highlands. The snowcapped mountain is gorgeous and one of the finest examples of natural beauty. If you are trekking through the mt kenya sirimon chogoria route, you will find the heavenly beauty mingled with adventurous feelings at every turn of your way. The mountain has existed for more than 3 million years on the earth. It is now a dead volcano.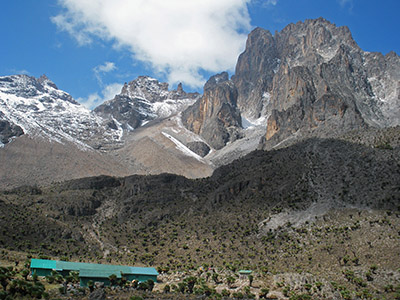 Some interesting facts about Mt. Kenya
Mt. Kenya lies within the Mt. Kenya national park. The mountain is a combination of three summits –
Batian summit is 17057 ft high which is the highest summit of these three.
Nelian summit is 17021 ft high and the second highest summit of these three.
Lenana summit is 16355 ft high and the lowest summit of these trio.
You can plan your trekking in any of these three summits. However, most of the trekkers here follow the mt kenya sirimon chogoria route to get to Lenana summit; however, a few also climb the other two summits.
At Mt. Kenya sun rises at the same time throughout the year.
The day and night are 12 hours each throughout the year.
What are Mt. Kenya Sirimon and Chogoria routes trekking?
These two routes are popular hiking routes that lead climbers to the summit of Mt. Kenya. This is the highest mountain in Kenya and the second-highest mountain in Africa. You can choose an experienced trekking organizer like Ice Rock Trekking to fix your schedule and climb the summit.
The Sirimon route is the most followed route to the summit and it is also considered the easiest route. It begins from Sirimon gate located on the northwest side of Mt. Kenya. Throughout this route, nature has poured the place with resplendent beauty. You will experience various peaks and valleys, mountain greeneries, colorful flora and fauna, and splendid-looking birds. Mt. Kenya is a residence of some rarest qualities of flora and fauna of the world. Sirimon route is a nature lover's paradise in its truest sense.
If you love challenges and if you are a seasoned trekker, you can try the Chogoria route. It begins on the eastern side of Mt. Kenya. The Chogoria Route is known for its spectacular scenery, which includes gorgeous waterfalls, pristine lakes, and rocky terrain.
Mt. Kenya is one of the top tourist destinations and the pride of East Africa. In its complex and centuries-old ecosystem, hundreds of different types of birds and animals are coexisting. Some tribal people also leave in this part of Kenya and they are still carrying centuries-old cultures and traditions. Plan your trekking with friends or family members with an experienced trekking organizer. Following guided trekking through Mt. Kenya Sirimon Chogoria route will be a truly cherishing trekking of your life.